Kiawah Island Marathon 2017 Race Report
Heading into this year's Kiawah Island Marathon, I was feeling much, much better prepared than last year. Throughout fall of 2016, I went back and forth between doing the full or the half distance at Kiawah, and really only decided "what the heck, let's just do the full!" the week of the race. Last fall, I was teaching three first-year writing courses, at least 4 fitness classes each week, and otherwise just working quite hard both with Runners Love Yoga and being on the academic job market. All things considered, last fall I actually did a great job of training, but long runs didn't really happen—I've tended to be very low mileage as a distance runner anyway, but you can read more about how that turned out actually quite well last December right here!
My Training This Fall
This year, I can't really say I miss being on the academic job market at all (note to the rare academic on the market who could be reading this: it will be JUST FINE. I am in fact massively relieved to have all those hours that would be spent on job materials back in my life! There are plenty of other rewarding jobs that involve teaching and writing that are out there for you!). I do miss my English lit students, but I'm now teaching two yoga courses for credit at UVa, and I've found this to be a very fulfilling way to still be in the college teaching environment, and actually perhaps have a greater impact on college students' lives. Mentoring and helping students was one of my favorite aspects of my job before, and teaching college yoga very definitely allows me to do that. Besides the five UVa yoga sessions each week, I'm also teaching four classes at IM-Rec Sports as well as two Runners Love Yoga classes at Formula Complete Fitness, so this added up to about 11 total fitness classes per week (9 yoga, one combined yoga/cycle, and one cycle class)! I was initially unsure whether this was too much, and jokingly told my friends that I'd either be the most tired or fittest person ever from all of this! After the first two weeks of the new schedule back August/September, during which I was indeed a little tired and dealing with a new commute, my body adjusted—thank you, body, for your insane natural endurance!—and my work in fact probably helped me to be the fittest as well as the most relaxed I've ever been. I was also doing more yoga than I usually am able to during the semester!
Below: with my UVa yoga classes!
With my schedule shifting towards the exercise-side of things, this made it a lot easier to actually run some miles during the day. I moved my off day from running to Monday, since that's the day I teach a 45 min. cycle class, and every Tuesday, Thursday, and Friday, I ran immediately after my UVa morning yoga class. On Wednesdays, I ran with my run buddy Courtney right before teaching an afternoon class. And so, within my normal work week for the first time in YEARS, I truly had a designated time for each run. This was also quite an efficient way of doing things: I felt very productive being essentially done with the bulk of my working out by mid-morning. Had I died and gone to heaven? This was so much better than being half-dead while grading 400 papers (not hyperbole) and making an adjunct-like wage and always running in the dark!
While from 2013 until this August, my average weekly miles were very much right around 30 (yes, THIRTY, you read that right), I decided to try cautiously upping that this fall. In previous marathon buildups, I sometimes hit what I thought was right around 40 miles a couple times, but I hadn't run regularly with a Garmin, and I began doing that for all of my runs this fall. (I know now that I was likely overestimating my past mileage since I thought I was going faster than I actually was! So, I was actually probably running less than 30 miles most weeks!!) Running with a Garmin is actually great: knowledge is indeed power. I still very much go by feel, but—and this is where a yoga mindset helps!—I wasn't going to let it get to me if I was out there and "by feel" meant 10:00 minute miles. I really don't pound any of my runs by myself, but made an effort for my Tuesday longer run to be around 8:30 pace. The Garmin helped me accurately know my mileage and my speed and kept me on track for when I wanted to be sure my regular runs were a little faster (and again, by a little faster, I mean in the 8-something per mile range, though with Courtney, we would sometimes hit the 7-something per mile range). From mid-August until race week, my weekly miles were significantly higher than they had been in the past: 35, 32, 42, 36, 37, 43, 37, 36, 46, 47, 54, 42, 50, 36, 30 (week of race, includes marathon). I sketched out what I wanted my mileage to be weeks in advance, but left room to play it by ear too. I wasn't sure whether actually hitting 50 would be way too much for me, so I initially just had planned on being in the mid-40s. I also did a legitimate 20-miler by adding on to a half marathon race that I used as a workout!
THE RACE ITSELF
Marathons are kind of nervewracking, especially the couple days before. As I texted one of my best friends, "is there anything more nerve-wracking than the day before a marathon?" Luckily, this was my sixth marathon and the fourth time I had run Kiawah. Being on familiar ground was very helpful. I also knew this was a good chance to win a marathon; that was on my lifetime running bucket list of things to do! However, it is a marathon, so you never know what can happen. Until you've won, you haven't won yet. Phillip as usual was a massive help with on course hydration and nutrition. As usual, we planned on GUs at miles 6, 12, 17, 20, and 23 along with a drink to hand off. (See "9 Insider Tips to Make Marathon Race Day Go More Smoothly" for Phillip's super pro method of attaching a GU to a drink!)
During past marathons, I tend to, being the endurance athlete that I am, get "stuck" at whatever pace I start at. Knowing this, and helpfully reading my past blogs and training logs, I knew I wanted to go out at 6:20-something pace. This worked great, and I settled into a good zone where I was comfortably churning out even splits. I would actually even say that the first 4-5 miles felt a little harder until I really got into a rhythm, and then I was much more comfortable. Kiawah is a smaller race, so at times I had no one around me, but luckily I had at several different points, small packs of 1-4 men to run with.
I had remembered that the full merged with the half course, but I hadn't quite remembered how truly difficult this was to navigate all of the half walkers! For a couple miles in the middle of the course (possibly 10-13 or so, though I can't be sure, see map of both here so you can get the general lay of the course), and then from about mile 21 to the end, the full merges with the half, but as a full marathon runner, you end up running into those walking the half marathon! This results in a good bit of weaving on an already windy route—indeed, there are a lot of turns on this one even if it is very flat! Subtract the hassle of weaving around a bunch of people walking (quite honestly painful at 23 miles when sudden turns hurt), and this is a really great course. I in particular enjoyed running around the Sanctuary Hotel near the oceanfront—there was a DJ there and a crowd of people cheering that gave me a good, needed boost at that point. From about mile 19 or 20 on, I ran alone. One male runner had been right behind me from probably 10k to about mile 15, but at miles 14 and 15 we had picked it up to consecutive 6:17 and 6:15 miles. (We had just broken free of the half walkers.) I didn't want to keep running that fast, so I let him go, which turned out to be a good move as I passed the poor guy at about mile 22 and finished two minutes ahead of him. Conservative is the way to go here, and I think this is one moment where just a little experience at this distance helped me rein everything in. Around mile 18 or so, my inner right quad started to get a little cramp, while the rest of my body felt totally fine. By the last 3 miles or so, the rest of my legs were hurting a bit too, so I just ran as fast as I could without risking anything blowing up. Versus other marathons I've run, I felt a lot better at the very end; the higher mileage and longer runs very much paid off here. I also ran a 4:30 PR, so that was a lot of fun! AND, I know I can chop more time off of this distance—with my new training, I'm only going to get stronger. Now I just have to decide when my next one will be….
Below slideshow: Running into the finishline, after the race with Phillip, bravely jumping into the cold pool aka ice bath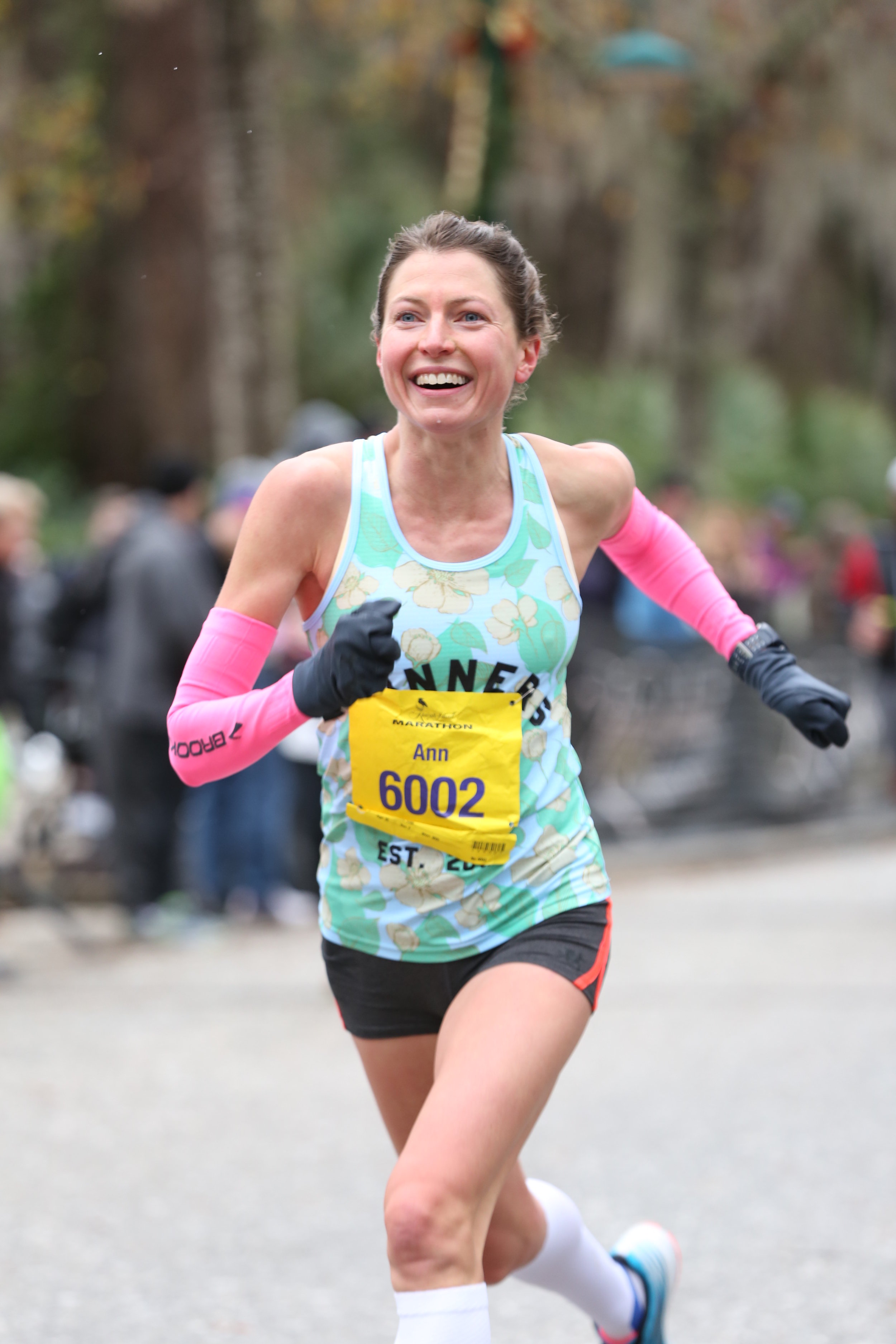 Below slideshow: after the race, enjoying some recovery yoga, exploring the Middleton Place Garden where we also bought a camellia to take home!, enjoying some Jeni's ice cream even though it was freezing outside, breakfast on Sunday